A Historic Corner – East Cross & North River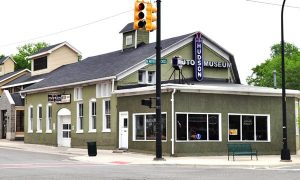 The Ypsilanti Automotive Heritage Museum sits on the southeast corner of East Cross and North River. The land was deeded by the government to Hiram Johnson on April 22, 1824. At the crossroads in Ypsilanti's Depot Town, the corner has a history as old as the City itself. Birdseye maps of Ypsilanti in 1865 and 1890 show a one-story reverse gable structure on the site. The building may have started as a residence but became a cooper shop making wood barrels.
In 1892, the Ypsilanti Electric Company built a structure on the site that is now the Hudson garage in the museum. The Washtenaw Electric Company purchased all of the equipment and assets in 1900. Washtenaw Electric became Washtenaw Light and Power Company in 1903.
Comstock Sash Lock & Novelty Company purchased the property in 1903. They became Michigan Pressed Steel Company in 1905 and occupied the building until 1916. A kerosene heater on display in the museum was manufactured by Michigan Pressed Steel.
The automotive history of the building started in 1917 when Joseph Thompson occupied the property and opened the first Dodge dealership outside of Detroit. In 1921, Thompson added the large addition to the west side of the building which is now the Hudson showroom. In 1926, Thompson moved his dealership to Michigan Avenue where many auto dealers were locating.
Scott Sturtevant moved in with his Willys Overland dealership in 1927. He stayed until 1929. Probably because of the Great Depression, the building sat empty for a period of time.
In 1933, Alex Longnecker and Carl Miller moved their Hudson dealership from Michigan Avenue into 100 East Cross. The property was purchased from Thompson by Longnecker in 1943 who sold it to Miller in 1945. Carl Miller became the sole proprietor of Miller Motors and sold new Hudson automobiles until 1958 when the production of Hudson ended after 49 years.
Miller Motors transitioned from Carl to his son Jack who sold used cars at the dealership. Jack bought up Hudson parts from closed dealerships and became the source of Hudson parts for Hudson enthusiasts all over the world. He became a leader in the national Hudson-Essex-Terraplane Club which found Ypsilanti as a home with the publication of their magazine by local Standard Printing.
In 1995, Jack had lunch with Peter Fletcher and Skip Ungrodt at the Sidetrack Bar & Grill across the street from Miller Motors. That lunch led to the creation of the Ypsilanti Automotive Heritage Museum by joining of Miller Motors with a building at 112 East Cross built as a parcel post sorting center. In 1999, Skip and Peter funded the construction of a building at 106 East Cross which connected the Hudson dealership with the parcel post building into a unified museum.