About Us
YAHM is managed by a nonprofit board.
Ron Bluhm, President
John Shook, Treasurer
Leo Cartier Secretary
Mickey Ichesco
Matt Lee
David Novak
Ron Pinsonault
Brad Stark
Jerry Szostak
Bob Elton
Linda French
YAHM's featured automotive stories are Chevrolet Corvair, Tucker, Hudson, Kaiser-Frazer, and General Motors Hydra-matic; all with Ypsilanti connections. Displays include Motor State which held patents on power convertible tops, the Ford Motor Company Generator Plant, and local car dealerships. As a thriving commercial and manufacturing hub, Ypsilanti had a significant influence on these pioneering companies and the men who built them. The Ypsilanti Automotive Heritage Museum preserves an important era in American history. The museum also hosts the National Hudson Motor Car Company Museum.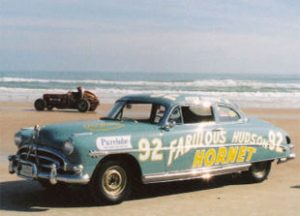 A featured car in the collection is #92, a 1952 Hudson Hornet race car owned by NASCAR champion Herb Thomas. Thomas drove Hornets to his second National Championship in 1953. All together, Thomas and his Hornets won 43 NASCAR races. Hudson Hornet race cars provided the inspiration for Doc Hudson in the 2006 Pixar film CARS.
Ypsilanti Automotive Heritage Museum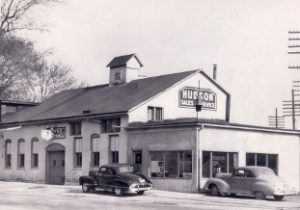 Carl L. Miller opened the Hudson Sales and Service franchise in 1927 as an automobile dealership and repair shop. After the American Motors merger in 1955, the dealership was renamed Miller Motors and added Rambler to the product line. Until 1958, when the Hudson line was discontinued, the dealership sold 1,969 new vehicles, including Hudsons, Essexes, Terraplanes, Ramblers
and Metropolitans. After 1958, Carl's son Jack continued Miller Motors selling Hudson parts and cars until the museum was founded. We are indebted to Jack for preserving the dealership's authentic condition.
In 1995, Paul "Skip" Ungrodt, Jr and Peter B. Fletcher purchased Miller Motors from Jack Miller and formed the Ypsilanti Automotive Heritage Museum. Jack was hired as a curator and served in that position until he retired in 2013. The museum has been steadily growing through gifts and acquisitions.
Archives
The museum's archives consist of advertising, service, repair, promotional items, and all the records of Miller Motors going back to 1927. Our Ken and Blanche Mericle Collection tells the history of Kaiser-Frazer. The archives are available for ongoing research and will be kept for future generations.